Epiq land elevates buyer expectations
Local families look to build new
A limited release of new homesites in the highly sought-after Epiq Lennox Head community will reach completion this month, enabling buyers to settle their land this year and move into their brand new home as early as next year.
Stage 7 is the first land release in over 12 months in the Clarence Property masterplanned development and is attracting interest from buyers wishing to commence building as soon as possible.
With a premium walkable location opposite Epiq Marketplace (home to Woolworths, a medical centre and more), these elevated homesites are less than 3 minutes to the beach and Lennox Village and just 20 minutes to Byron Bay.
The lots have been developed to meet a backlog of local demand for ready-to-build land in the popular coastal community where previous releases have sold quickly, mostly to local owner occupiers.
Stage 7 homesites range from 366sqm to 897sqm, with exclusive agent Nick Bordin from Elders Lennox Head noting the homesites have been released at a time when demand for new housing remains while the supply of coastal land is incredibly low.
"The owner occupier market remains buoyant right across Ballina Shire right now, with buyers looking to both upsize and downsize within the area where they already love living.
Upgrading as an affordable option
Epiq's Stage 7 buyers to date include local downsizers looking for the low-maintenance living offered by a new home as well as local upgraders like Alana and Zayne Groves (pictured), who recently purchased a 375sqm lot.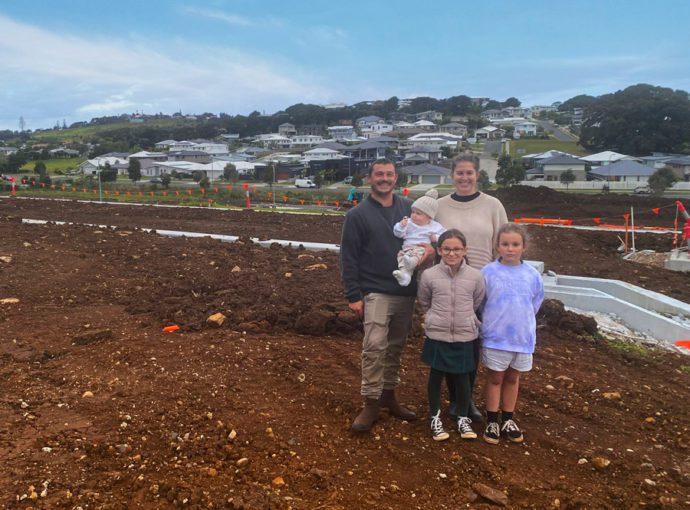 Ms Groves said, "we love living in Epiq as the estate is filled with young families and is still just minutes to the village".
"We looked extensively at existing homes in the area, but to suit our family's needs, most homes required significant renovations or even a knock-down rebuild which would have cost a lot more, so this is a great chance for us to build our dream home exactly how we want, in a community we already love living in on an achievable budget."
"We are really happy to have secured an elevated block, less than 3 kilometres from the ocean and we'll build our brand-new home for a total of under $1.3 million, which was simply not achievable anywhere else we looked."
Mr Bordin added, "the entry price of quality properties is making it difficult for first home buyers to enter the market however when they compare the cost of building a new home to buying an existing property, many are seeing building as an affordable option.
"Over the past couple of months, we've seen a real shift in the Lennox buyer profile with many out of area buyers who were active last year and early this year now pausing their search.
"It's locals who are making up the majority of sales now, and recent sale prices continue to demonstrate our market is quite insulated from the market slowdown seen elsewhere due to an imbalance between supply and demand. "For the foreseeable future, we anticipate these lower stock levels will continue with many buyers still looking for new homes across the region."
Since Epiq was launched in 2015, the community and its infrastructure has come of age. Stage 7 buyers have the benefit of joining Epiq at a time to take advantage of the new Epiq Marketplace shopping centre, as well a state-of-the-art new childcare centre, both located right across the road.
There are also new sporting fields and a new community facility building, which Clarence Property recently handed over to Council, directly adjacent to this land release.
In addition to infrastructure upgrades within Epiq, recent improvements to the Pacific Motorway have put Lennox Head within a shorter drive time to the Gold Coast and Brisbane, and this in turn has enticed many people to make the move, or commute, from Southeast Queensland city centres.
In delivering these new homesites, Clarence is satisfying local demand, which has remained strong ever since the first release in Epiq, which is now home to more than 1,000 residents across almost 400 homesites released to date.
Mr Bordin said, "almost half of all sales within the Epiq community have been to locals, with the rest coming from areas like Byron Bay, just 20 minutes to the north, where much higher property prices together with a scarcity of land are driving families to look a little further down the coast for significantly better value".
Homesites now selling
Completion of Stage 7, the first land release in over 12 months in Epiq, is expected in late July 2022 with settlement anticipated for approximately October this year, allowing buyers to commence building their dream home quickly.
Register now for details including a Stage 7 plan and prices, or contact exclusive agent, Nick Bordin of Elders Lennox Head on 0423 238 062 to inspect.